Welcome to
Aroma International
We introduce ourselves as one of the best Man Power Recruitment Agencies in Nepal engaged in personnel selection. Our organization works with the motto "Right Candidate For The Right Position". With the proven track record , we have been in the business. We largely aim at providing the companies with candidates that fulfill their demands in exact terms & giving the candidates a better sense of direction by placing them in the organizations with excellent work environment and payroll.
A One Stop Solution provider for the entire placement needs, our organization is considered amongst few of the top placement agencies in Nepal. All of our placements are highly suitable because we comprehend how important the right fit is to the success of the employee and the company.
Aroma International Pvt. Ltd. is one of the reputed recruiting agencies in Nepal. This company is registered under Government of Nepal, Ministry of Labour. (No. 585/062/063).Till now this Company has been successful to satisfying the demands of many Gulf countries in the Middle East and Malaysia for their manpower requirement.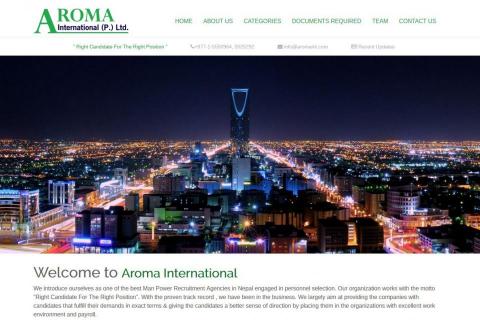 Aroma International New Website Launched
Aroma International official website aromaint.com is launched for sharing maximum information. If you have any comments and suggestion, Please email us info@aromaint.com